WHALE WATCHING & BEACH CLEAN
Sign up & enquiries: Janet Marshall - janet@claddach.com
---
Whale Watching in Lewis
Come whale, dolphin and propose watching at one of the best places in Europe to see these thrilling species from land: Tiumpan Head, Point, Isle of Lewis. Janet Marshall is an experienced local wildlife watcher and illustrator and can help you identify species, give you tips on what to look for, and recount tales of sightings. We will meet beside the picnic table, then after a brief watch go up the hill behind the lighthouse; on a clear day the view of the mainland and Skye is spectacular.
Bring binoculars if you have them, and please park thoughtfully, there are a few places by the lighthouse and more 150m back down the road, but make sure access is maintained to the lightkeepers cottage.
This event is weather dependent, the whales, dolphins and porpoises may be there on a rough day, but they are really hard to see when the sea is full of pointy, fin shaped waves!
Times & Location:
Meet at the picnic table by Tiumpan Head Lighthouse in Point.
Tuesday the 20th July at 19:00pm.
Wednesday the 21st July at 10:00am.
---
Beach Clean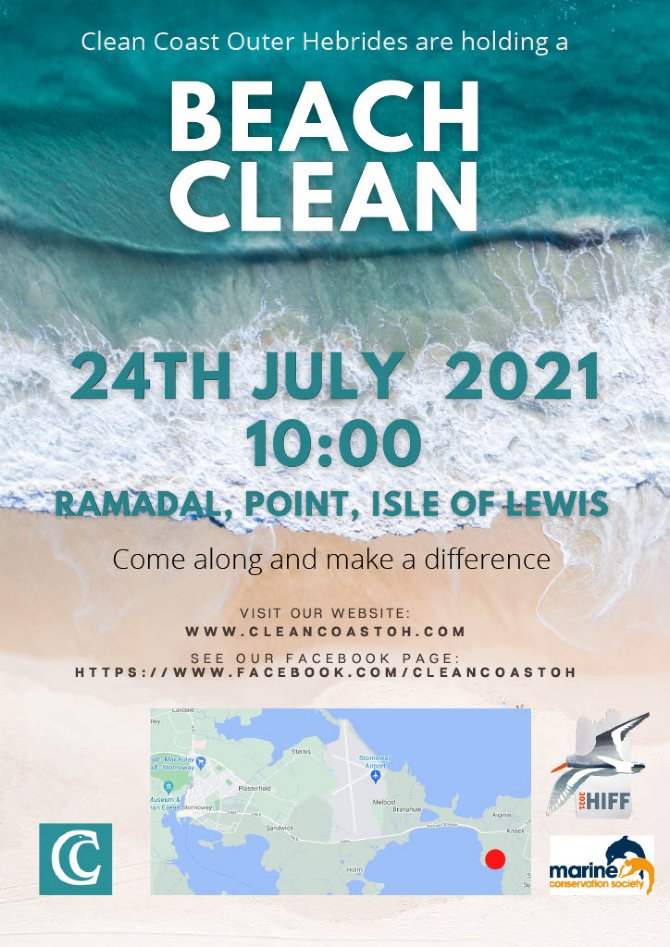 attend at the designated time of 10am and observe social distancing.
Marine plastic is a growing problem around our shores, as well as being unsightly it is hazardous to wildlife, both marine and terrestrial. Come and make a difference to our lovely environment
Ramadal is a quiet beach off the tourist track but well valued by the local populace. It has some really interesting rock pools and is sandy at low tide.
We need volunteers to gather, weigh, sort and log what we collect. This provides useful data that helps guide government policy and future funding.
Clean Coast Outer Hebrides is a local charity that campaigns and educates, informs and inspires about our marine environment and what we can do to help, see www.cleancoastoh.com .This beach clean is being held in association with HIFF21 and the Marine Conservation Society MCS.
Gloves and some grabbers, buckets and bags are available. It would help if you could bring your own buckets. If anyone is interested to help take the resultant waste to Creed Park, that would be very helpful.
Discover just how satisfying it is to see the difference you've made!
Times & Location:
Meet at Ramadal beach at the end of Rathad na Ceardaich, Knock in Point (see star on map below).
Saturday 24th of July at 10am.